Life skills laboratory Friends – Module 2
2021 to 2023. The pandemic has reduced the activities of this program, but interested children and youth, as well as their parents, can contact us if they want us to form groups.
 2014 to 2020:
In this period, we carried out all activities from the program, to a greater or lesser extent:
Basic mentoring program: at the request of parents, we included 6 young people (high school students) who had mentors for 1 to 3 years. It has been shown that young persons with disabilities, who are still in the education system, go through developmental changes very intensively, so for most of them these temporary difficulties affect behavior and mental health. These young people are often treated in hospitals, absent from activities, so it is difficult to maintain mentor pairs, because there is no continuity in the implementation of plans. Therefore, we included them in other activities from the mentoring program, so that they would be as involved as possible:
Let's go swimming! – every year from 3 to 5 children and young people participated in activities at least once a week
Play the story! – 4 cycles of children's psychodrama workshops were held, in which 5 students with various difficulties were included per workshop, ranging from behavioral disorders, emotional and social difficulties, etc. Due to lack of funding, these workshops are not currently held. Host Tanja Sudisakas, MA in social pedagogy, holds them at R. K. Jeretov Elementary School, Opatija
Create a new frame! – creative comics workshops for children were held continuously until 2015, once a week, from 5 to 7 pm, for gifted children, 7 to 15 years old. On average, 10 children attended the workshop annually. From these workshops and other motives, the idea of establishing the Kvarner Colony of author's comics and illustrations was born.
Professional training of educational workers and other persons who work with children and young people.
Wool and me – come and see!
1. Mentor program "Laboratory of life skills – FRIENDS" – Module 2
It is intended for children and young people with developmental and difficulties in psychosocial functioning, enrolled in the education system.
The program was designed with the aim of preventing the social exclusion of children and young people enrolled in some of the regular schools in the educational system, in such a way as to improve and develop activities that form a form of preventive program to prevent risky behavior of children and young people. The selection of activities and work methods were created due to the need to carry out activities that will be fun for different children and young people with different needs and thus increase efficiency in achieving educational and educational outcomes.
This is how we achieve high motivation and active participation, and the activities themselves represent a protective factor for preserving psycho-physical health. Most of these activities are not carried out in any organization in the wider area, and participants can participate in several activities or just one, they can enroll in these activities at any time, except for the children's psychodrama workshops, for which a group is formed depending on compatibility participants. This module of the mentoring program has a greater emphasis on the organization of free time for children and young people, but primarily through play. The structure of the program is organized as a series of individual but connected activities that can be designed as independent projects. Some of the basic activities of this Module 2 are as follows:
Basic mentoring program (structurally the same as in Module 1)
Let's go swimming!
Play the story!
Create a new frame!
Professional training of educational workers and other persons who work with children and young people.
Wool and me – come and see!
The program is planned, implemented, evaluated and evaluated in a team consisting, in addition to the program team, of experts from various fields of work, such as social pedagogues, psychologists and doctors.
Some of the mentioned activities will be described below.
2. Let's go swimming!
"Let's go swimming!" represents a project/activity of recreational and therapeutic swimming that has been held since the 2014/2015 school year. at the Kantrida Pool, and is still being held. It is intended for children and young people with disabilities, with chronic diseases, emotional difficulties and/or learning difficulties, who are enrolled in regular classes in the education system.
The general goal is to empower the participants and the social community so that the users can successfully participate in everyday life, and to reduce the prejudices of the community about children and young people with developmental difficulties, especially those with difficulties in establishing social relationships and those with various psycho-motor difficulties. Also, the goal is for the participants to acquire healthy habits of actively engaging in physical (recreational) activities, in order to prevent the development of diseases and preserve health. A satisfied young person overcomes everyday life challenges more successfully, maintains health, creates networks of new friends, and all of this is a protective factor for children and young people with difficulties which also prevents social exclusion.
Specific goals:
To organize free time for children and young persons with difficulties – recreational and therapeutic activity of swimming in the pool through play
Connect youth with difficulties from the mentoring program with their mentors/students
Increase the level of visibility and needs of the target group in the public of PGC and beyond.
Who participates in the activity?
a) Children and young people with difficulties and/or disabilities
students enrolled in a special class section in the Fran Franković Primary School, Center for Education and other secondary schools, such as the Secondary Construction School for Industry and Trade.
Their difficulties in development and psychosocial functioning are mainly in the area of social and psychomotor competences (pervasive disorders, ADHD), emotional difficulties, learning disorders, but also chronic diseases.
b) Students/volunteers
students enrolled in studies at the Faculty of Philosophy and Teacher Education, or any other study at the University of Rijeka, who do their professional practice or duties as part of individual courses ("service learning") in the form of mentoring, in which swimming is one of the activities in the mentor's work plan, student or activity assistant. Volunteers can be any other person who has a will for activities in the water and/or experience in working in the water.
How is the stated goal achieved?
The activity takes place once or twice a week at the Kantrida Pool, and children and young people with difficulties participate, together with their mentors, accompanied by other volunteers or independently. Groups in which users participate in water activities (swimming) are usually small (up to 10 participants) and are carefully formed, depending on the types of difficulties of children and young people.
The activity is organized and free play in the water, and the methods have the characteristics of therapy and recreational training, which encourages high motivation in the participants, improves their motor skills, reduces restlessness and enables them to overcome difficulties more easily. In addition, the activity enables the socialization of children and young people with their peers and other people. Leaders are experienced swimmers, professionally trained in internal or other training for various methods of working with children and young people, and are especially oriented towards working in water.
So far the presenters have been:
Ivona Trtanj Šneler, mag. primary education – an experienced swimmer with plenty of additional professional training, such as the Halliwick concept (https://www.hpsoi.hr/halliwick-hrvatska)
Ana Matković, mag. of primary education – experienced and excellent swimmer, mentor/volunteer in the program during her studies, from 2018 to 2022
Vinko Šešelja – experienced swimmer and volunteer since 2020.
Download pdf: print-swimming
3. Play the story!
"Play the story!" is a form of therapeutic-counseling activity, more precisely, a children's psychodrama workshop, with which we favorably influence the prevention of the development of pathological conditions in children at risk. This activity takes place through a cycle of 10 workshops in which children with emotional difficulties, learning difficulties and other risks participate, and they are led by a professional associate professionally trained in this method of work.
This group psychodrama method has been applied since the 60s/70s in America and Europe, and we have been implementing it in the "Laboratory of Life Skills – FRIENDS" program since the very beginning of the program, since 2015.
The goal of this activity is to enable children to freely and uninhibitedly express their own emotions, act out situations from everyday life through spontaneous play, express creativity, understand themselves and other people, as well as their own and other people's characteristics and behavior. The world of imagination offers tranquility and the possibility of creative expression. Through creative symbolism, children formulate their own difficulties and try new solutions.
How is the stated goal achieved?
"Play a story" is a group form of work with children, and the method of work is the development of creative activity for the purpose of touching the child's "inner world". Children's psychodrama workshops are attended by small groups of 4 to 8 children of similar age. This target group consists of children aged 5 to 12 (preschool and school children) without difficulties or with certain emotional and/or behavioral difficulties. Thus, this activity is suitable for children with learning disorders, those who suffer from anxiety disorders, any psychosomatic disorder, those who face violence in the family or school environment, as well as those children who face various challenges and adaptation to new life situations. situations, such as the death of a loved one, divorce or separation of family members (e.g. a family member serving a prison sentence). Common to all is social exclusion.
With the aforementioned group, after assessing compatibility, the leaders of the children's psychodrama workshops (one to two adults, professionally trained leaders of children's psychodrama) form 10 workshops in which the emphasis is on play and a stimulating and creative atmosphere (various role plays, a story/dramatic template is formed).
The workshops are held in cycles of 10 to 12 meetings, and the elements of the structure are as follows:
introductory interview with parents/guardians
introductory conversation with the child
children's psychodrama meetings (once a week) – role plays based on a structured story/dramatic template
final meeting with parents/guardians
documenting and analyzing the meeting.
Children are highly motivated because they are the actors and creators of the story, and each new workshop provides the leader with a basis for analysis and encouragement, as well as the development of methods for the next workshop.
After the leader's assessment, parents are recommended either to continue or to do other activities.
The leader of the "Play the story" workshop is Tanja Sudiskas, MA in social pedagogy.
4. Create a new frame! – creative workshop of author's comics and illustrations by Damir Steifl
Pdf: print-strip-workshop-a4-trifold-3mm
TV show dedicated to the workshop: Kanal RI, Učiconica, October, 2018:
https://www.youtube.com/watch?v=p80gPW1ymV8
"Create a new frame" is a cheerful and fun comic book and illustration workshop intended for children of elementary school age, more precisely, students up to the 6th grade. The workshop has been held since 2015 and since then has been gathering children who are inclined to draw and write in a particularly creative medium or art form – that of comic books. Comics are a medium for expressing creative potential, but also emotional states, family problems, and the like. The workshop is intended for every child who wants to spend free time discovering the possibilities of written and cartoon expression. Every child can express the inner and outer world through a story, with the guidance of the author of a specific comic who guides children in small groups to discover the wonderful possibilities of this expression. Already at an early age, children express their world of ideas, colors and names of events, things and phenomena. By connecting "frames" in the story, children are enabled to express their emotions and the obstacles they face. Through the game of arranging frames of comics and illustrations of their own stories, children discover the world of relationships between peers, a view of the world around children, happiness and problems that occupy schoolchildren.
The workshops are held throughout the school year in small groups, and so far about 30 children have attended this workshop, most of whom have encountered some emotional problem, learning difficulties (inability to concentrate, hyperactivity, etc.). This workshop takes place in collaboration with experts, social pedagogues and a psychologist, and the leader is an independent artist, Damir Steinfl, who coordinates the implementation and way of working at the workshops with the condition and needs of children and young people.
The author of the workshop himself, as a child and young person, received awards for the specific style of comics, which he cherishes even today.
The aim of these workshops is to develop tolerance as the basis of civilized behavior and a culture of peace. Every work is valuable and every child is given full attention, which is why they will feel fulfillment and satisfaction after creative work. This encourages work for the purpose of artistic and written expression itself, and not for external rewards. Also, we want to encourage cooperation among peers, getting to know each other, free and different expression, spending free time in creative expression, which will strengthen children's self-confidence and self-esteem. In addition, they are taught how to depict given motifs in art, present the interrelationship of given motifs, use the basic elements of art composition, master the stylization of drawings, notice characteristic planning in the creation of comics, learn to compose text into an artistic representation, recognize the historical development of comics, mastering the language of comics through making comic cards (with text, without text, use of onomatopoeia, framing, etc.).
How is the stated goal achieved?
Workshops are held from September to mid-July (and during school holidays) in small groups (5-10 participants). The workshop takes place once a week, usually on Wednesdays from 17:00 to 19:00. Groups are formed after registration according to age, and work is done in one or two groups in the afternoon.
Each lesson begins with an introduction, which gradually, unobtrusively and through play introduces the workshop participants to the individual processes of creating comics and illustrations, as well as to individual realizations of the said art form. It is focused on individual contents according to the interests and needs of the children, and the contents of the process and topics are: idea – sketches – script – framing – pencil – showering – color – finalization and publication. In addition to the process, they are introduced to the materials (accessories) and techniques of making comics.
Special attention is paid to the topic of life in the community and relationships in the family and among peers, children's rights and the topic of the "city", that is, urban topics (ecological, etc.)
Through an individual approach, the participants are motivated to work independently, unleash their imagination, they are helped with advice so that at a given moment, in the best possible way, they realize the ideas, stories and drawings they come up with. Children are allowed to participate in the selection of topics and the rhythm of work, both group and individual.
After each cycle, an exhibition of works is organized for the participants in spaces suitable for comics, and as part of the work, visits to the Museum of Modern Contemporary Art are also organized.
At the end of each cycle, works are published on the blog Kvarnerska strip scena (https://opatijskastripscena.blogspot.com/).
The host organizer is Damir Steinfl, an independent artist, the author of many exhibitions and original works
Target group:
children of elementary school age, aged 7 to 13 (students up to 6th grade)
You can pay the monthly membership fee in the amount of HRK 200.00 by general payment or by scanning the 2D code:
Information for payment by general money order (at the post office or bank):
Research and Support Society
Wenzelova 2/1, 51000 Rijeka
IBAN: HR7123600001102394295 (ZABA)
MODEL: 00
CALL NUMBER: 12345678
DESCRIPTION OF PAYMENT: Membership fee for the Club of Comic Artists
Below, you can see the 2D barcode for paying the membership fee that you can scan through the mobile banking application. In the menu, in the application, find the option 'scan the receipt' / 'scan and pay' / 'scan the 2D barcode' / 'take a picture and pay', etc. – the application will fill in all the fields by itself.
5. "Wool and me – come and see!" – an innovative method of wet wool felting with hands and feet!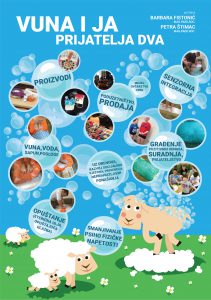 This activity was created based on the experience of activity hosts, Petra Štimac and Barbara Fistonić, both social pedagogues, in working with children and young people at school and on activities in our association, DIP. Precisely because of the effectiveness of this educational method of working with children, the development of a program was started, which was approved by the relevant ministry for the implementation of this activity in schools.
This method of work has a therapeutic and educational effect. It was shown that children with behavioral disorders and other difficulties very actively accepted this method.
The effects are:
a) reduction of psychophysical tension, relaxation,
b) development of self-control,
c) strengthening self-confidence,
d) developing communication and social skills,
e) developing motor, sensory and cognitive skills
f) developing perseverance and focus in work
g) increasing educational achievements
h) introducing an innovative work method into the educational process.
Wet wool felting involves squeezing the wool with the hands and feet in warm water and soap on different tactile surfaces, whereby different decorative and useful objects are formed. Wool felting is fun and pleasant for the users, and allows them to get closer and build relationships in a positive atmosphere (we felt with relaxing music and the smell of essential oils). In addition to wet felting with hands, we also use wet felting with feet, which additionally stimulates the basic sensory system.
Target groups for which the activity is intended:
population of children and young people
children and young people at risk
children and young people with difficulties and/or disabilities (behavioral disorders, autism spectrum disorders, intellectual disabilities)
educational workers,
anyone interested in learning the technique of wet spinning wool, for example managers (team building). Students are calmer, their concentration increases.
The method affects the motor, psychophysical and other abilities of the participants. Also, since it is done with wool, which is supposedly "waste", this method contributes to the ecological awareness of children and young people. This activity is carried out once a week or a month, in groups of up to 10 students
The workshop lasts two and a half hours, with a smaller number of participants (4-6), and the appointments are held in agreement with the leaders. Participants will learn the basics of wet wool felting, and will make and take home: a cell phone case and a scented flower.
The work method was presented at the Activities of Professional Associates, at the Conference of Social Pedagogues in 2018.
You can view the presentation here: https://budi-kreativan-prezentacija
Wet wool felting workshops have so far been held in:
– Fran Franković Elementary School, Rijeka (special class department for students with behavioral disorders, workshops have been held for 5 years, 30 students, stronger self-control, better mutual relations, reduction of frustrations)
– Elementary School Fran Franković Rijeka (regular population of students who showed interest in felting, 10 students, relaxation, acceptance of differences and tolerance towards students with difficulties, development of concentration, patience and focus)
– Elementary School Sveti Matej, Viškovo (special educational group for students with intellectual difficulties, 5 students, relaxation, building relationships, focus, patience)
– Autism Center Rijeka (4 students, sensory integration, relaxation, interconnection, concentration)
– Center for the provision of services in the Izvor community, Selce (half-day treatment for children and young people with behavioral disorders, 20 students, connecting and strengthening mutual relationships, quality spending of free time, development of entrepreneurship)
– Ivan Mažuranić Elementary School, Novi Vinodolski (special educational group for students with intellectual difficulties, sensory integration, development of patience and concentration, relaxation),
– Ivan Mažuranić Elementary School, Novi Vinodolski (about a dozen school employees, mostly classroom teachers, learned the basic skills of wet wool felting, which they will pass on to their students in classroom lessons).
Doniraj i udomi
Udomljavanjem naših ukrasno-uporabnih predmeta sudjelujete u provedbi naših programa za mlade s teškoćama u razvoju i psihosocijalnom funkcioniranju. Mi ćemo vam zato pokloniti jedan ili više predemeta koje smo sami napravili.
Prijavi se
Kontaktirajte nas
Informacije
Adresa
Wenzelova 2/1
Rijeka, Hrvatska
OIB: 78171364712
MB: 4152115
ŽIRO RAČUN: ZAGREBAČKA BANKA
IBAN: HR7123600001102394295