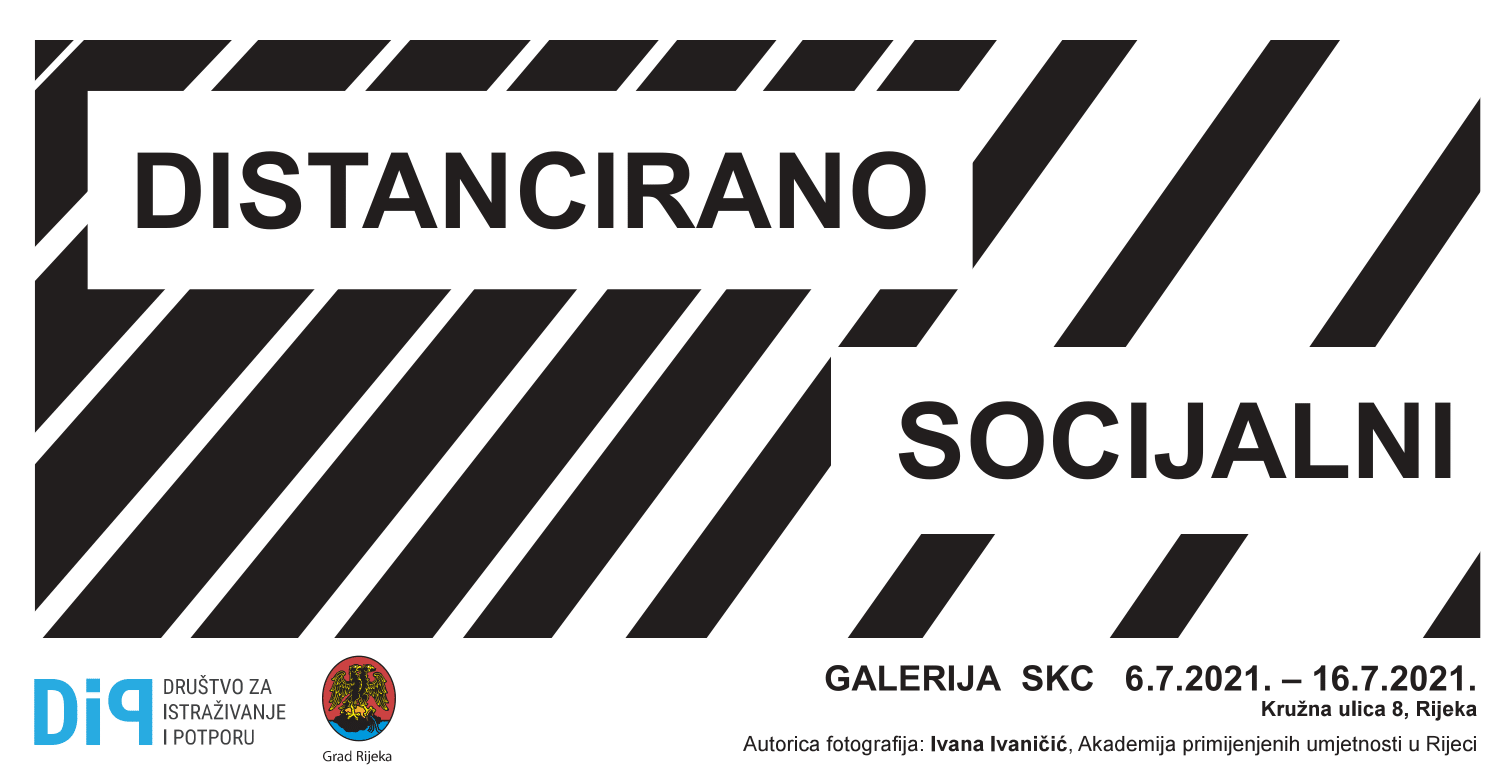 About the exhibition Social while physically distanced
Social while physically distanced
The association Društvo za istraživanje i potporu (The Society for research and support) (https://www.facebook.com/istrazivanjeipotpora) organizes an exhibition of portraits of young people with disabilities called Social while physically distanced, in cooperation with the Academy of Applied Arts, University of Rijeka. The author of the photos is student Ivana Ivančić. The photos were taken during April and May at various locations in the City of Rijeka – public spaces such as Korzo, Molo Longo promenade, alleys in the old town, …
We invite you to honour the opening of the exhibition with your presence, which will be held on Tuesday, July 6, 2021. at 12.00 in the SKC Gallery, Kružna ulica 8, in Rijeka.
The exhibition will be open to the public from July 6, 2021 to July 16th, 2021 from Monday to Saturday from 17.00 to 20.00.
The exhibition is an activity from the communication campaign for advocating for the rights of people with disabilities conducted by the DIP within the 3-year program "DIP's Youth Club – Ready, set, work! funded by the Ministry of Labor, Pension System, Family and Social Policy, Primorsko-goranska County and other donors.
In order to attract public attention and sensitize decision makers to the obligation to provide support and care to our target group, we want to introduce you to them. This creates an opportunity for social interaction and socializing. We invite you to pay attention to the abilities they have, and not to the obstacles they face on a daily basis.
The aim of the exhibition is to increase the visibility of young people with disabilities and draw public attention to their daily lives – we want to talk about social exclusion, isolation and stigmatization of people with disabilities – young people with disabilities and psychosocial functioning (autism, intellectual disabilities, ADHD, etc.). Their difficulties may not be immediately apparent, but unfortunately it is precisely because of them that they become invisible to society. The exhibition aims to draw public attention to the lives of young people with disabilities and psychosocial functioning, through portraits and short sketches – what they like to do, what they do not like, what their day looks like, their life, what they want to say to citizens … The project was funded by the City of Rijeka through the Open Tender for Small Grants in 2021. Thank you for building the community that cares with us!
Gallery links:
ABOUT THE ORGANIZER
The Society for Research and Support (DIP) has gained extensive experience in implementing various projects in 8 years of working and working with young people. Lately, the most important is the SEC youth club – Preparation, attention, I'm working! – a half-day stay for young people with disabilities, the main goal of which is to prevent institutionalization and increase the social inclusion of beneficiaries. In November 2020, the Kvarner Colony of Author's Comics and Illustrations was held, and on that occasion a large exhibition (over 300 works by domestic comics authors) of author's comics and illustrations was presented to the public at Exportdrv. Also, in 2019, the Ri Urban Inclusive Walking 2020 project was implemented, the first project to promote Nordic walking in our area, which was extremely well received by the public (about 100 citizens and about 30 young people with disabilities participated). The project ended with an exhibition of photographs "Solidarity and Helping" in the Society of Architects Rijeka (DAR). The project Students – Inspectors of Architectural Barriers, was implemented in 2017, and was an action of young students to support their colleagues with disabilities, through which a communication campaign to sensitize the public and participate in political decision-making to remove architectural barriers and through which several faculties and institutions installed equipment and aids for persons with disabilities.
Kontaktirajte nas
Informacije
Adresa
Wenzelova 2/1
Rijeka, Hrvatska
OIB: 78171364712
MB: 4152115
ŽIRO RAČUN: ZAGREBAČKA BANKA
IBAN: HR7123600001102394295