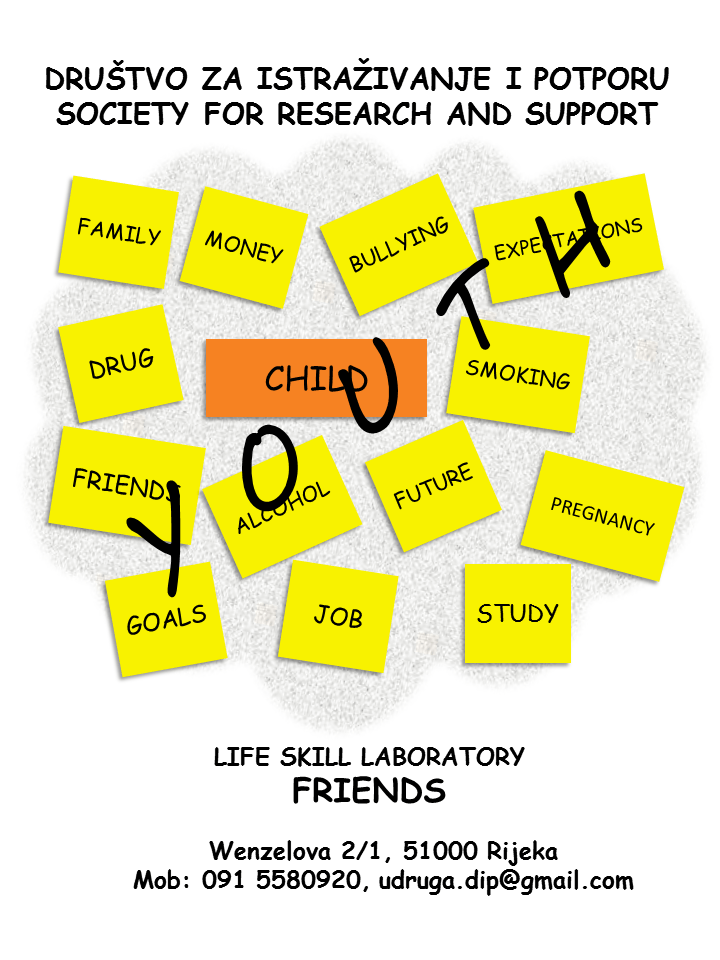 Mentoring program "Life skill laboratory – FRIENDS" – Module 2 is intended for children and youth with developmental and psycho-social functioning difficulties that are in the education system.
The program was envisioned with the goal of preventing social exclusion of children and youth enrolled in some of the regular schools in the education system, by improving and developing activities that prevent risky behaviour in children and youth as a part of a preventive program. The specific activities and work methods were created from the need of carrying out activities with different children and youth with different needs in a way where the activities would be fun for them and thus it will increase efficiency in achieving educational outcomes.
In that way we achieve high motivation and active participation, and the activities themselves are a protective factor for maintaining psycho-physical health. Most of these activities are not carried out in any organization in the wider area, and participants can join several activities or only one. They can also enroll in these activities at any time, with the exception of the children's psychodrama workshops for which a group is formed depending on the compatibility of the participants. This module of the mentoring program has a greater emphasis on the organization of free time for children and youth, but it does that primarily through play. The structure of the program is organized as a series of individual but related activities that can be shaped as stand-alone projects. Some of the core activities of Module 2 are as follows:
Basic mentoring program (structurally the same as Module 1)
Let's go swimming!
Play the story!
Create a new frame!
Professional training of educators and other people working with children and youth.
Wool and me – a couple of friends!
The program is planned, implemented and evaluated in a team consisting of, in addition to the program team, experts from various fields, such as social pedagogues, psychologists and doctors.
Some of the listed activities will be described below.
1.Let's go swimming!
"Let's go swimming!" is a recreational and therapeutic swimming project/activity that has been held since the 2014/2015 school year at the Kantrida pool and is still being conducted. It is intended for children and youth with difficulties, chronic diseases as well as emotional and learning difficulties who are enrolled in regular classrooms in the education system.
The general goal is to strengthen participants and the social community in order to successfully involve our members in everyday life as well as to reduce community prejudices about children and youth with disabilities, especially those with difficulties in establishing social relationships and various psycho-motor difficulties. Furthermore, the goal is for the participants to acquire healthy habits of doing active physical (recreational) activities in order to prevent the development of disease and preserve health. A satisfied young person more successfully copes with everyday life requirements, maintains health, and creates networks of new friends. All this is a protective factor for children and youth with difficulties and prevents social exclusion.
Specific goals:
Organize free time for children and youth with difficulties – recreational and therapeutic activity of swimming in a pool through the game
Connect young people with difficulties from the mentoring program with their mentors/students
Increase the level of visibility and needs of the target group in the public of Primorsko-goranska County and beyond
Who participates in the activity?
a) Children and youth with difficulties
students enrolled into a special classroom in the Fran Franković Elementary School, The Centre for Education, as well as high schools such as the School of Building Industry and Crafts.
Their difficulties in development and psychosocial functioning are mainly in the field of social and psycho-motor competences (pervasive disorders, ADHD), emotional difficulties, learning disorders but also chronic diseases.
b) Students/volunteers
students of the Faculty of Social Sciences and Humanities and Faculty of Teacher Education or any other Faculty of the University of Rijeka who perform their professional practice or obligations within individual courses ("service learning") in the form of mentoring, within which swimming is one of the activities in the work plan of the student mentor. The volunteers can be any other people who are willing to do water activities and/or have experience with working in water.
How is this goal accomplished?
The activity is held once or twice a week at the Kantrida pool, and children and youth with difficulties participate together with their mentor, accompanied by other volunteers or independently. Groups in which members participate in the water activities (swimming) are usually small (up to 10 participants) and are carefully formed depending on the type of difficulties the children and youth have.
The activities include organized and free water play and the used methods have water therapy and recreational training characteristics which encourage high motivation in participants, improve their motor skills, reduce anxiety, and allow them to overcome difficulties more easily. Additionally, the activity enables children and youth to socialize with their peers. The instructors are experienced swimmers, professionally trained for different methods of working with children and youth with a special emphasis on work in the water.
So far, the instructors have been:
Ivona Trtanj Šneler, master's degree in Primary Education – experienced swimmer with lots of extra work training, such as the Halliwick concept (https://www.hpsoi.hr/halliwick-hrvatska)
Ana Matković, master's degree in Primary Education – experienced and excellent swimmer, mentor/volunteer in the program during her studies
Vinko Šešelja – experienced swimmer and volunteer.
2. Play the story!
"Play the story!" is a form of a therapeutic counselling activity, or more precisely, a workshop of child psychodrama, which has a beneficial effect on preventing the development of pathological conditions in children at risk. This activity takes place through a cycle of 10 workshops in which children with emotional, learning, and other difficulties participate. The activities are led by an associate, professionally trained for this method of work.
This group psychodrama method has been used since the 60's/70's in the US and Europe, and we have been implementing it in the "Life Skills Laboratory – FRIENDS" program since the very beginning of the program in 2015.
The aim of this activity is to enable children to express their emotions freely and unrestrainedly, playout situations from everyday life through spontaneous play, release creativity, understand themselves and other people and their own and others' characteristics and behaviour. The world of imagination provides serenity and the opportunity for creative expression. Through creative symbolism, children face their own difficulties and try new solutions.
How is this goal accomplished?
"Play the story!" is a form of group work with children and the work method is the development of creative activities for the purpose of contact with the child's "inner world". Small groups of 4 to 8 children of approximately the same age participate in children's psychodrama workshops. This target group consists of children aged 5 to 12 (preschool and school children) without difficulties or with certain emotional and/or behavioral difficulties. Thus, this activity is suitable for children with learning difficulties, those who suffer from anxiety disorders, any psychosomatic disorders, those who face violence in the family or school environment, as well as those children who face various challenges and adaptation to new situations such as the death of a close person, divorce, or separation of family members (e.g., a family member serving a prison sentence). What they all usually have in common is social exclusion.
Once they assess compatibility, the child psychodrama workshop instructors (one or two people, professionally trained children's psychodrama instructors) form 10 workshops in which the emphasis is on play and a stimulating and creative atmosphere (different role plays, forming a story/drama template).
Workshops are held in cycles of 10 to 12 meetings, and the elements of the structure are as follows:
introductory conversation with parents/guardians
introductory conversation with the child
meetings of children's psychodrama (once a week) – role-plays according to a formed story/drama template
final meeting with parents/guardians
documenting and analysing the encounters.
The children are highly motivated because they are the actors and creators of the story, and each new workshop provides the instructor with the basis for analysis and development of methods for the next workshop.
After the instructor's evaluation, the parents receive a recommendation for their child to either further continue with this workshop or to do a different activity.
The instructor of the "Play the story!" workshop is Tanja Sudiskas, master's degree in Social Pedagogy.
3. Create a new frame!
print-strip-radionica-a4-trifold-3mm (dodati hyperlink)
Tv show episode devoted to the workshop: Kanal RI, Učionica, 10., 2018.: https://www.youtube.com/watch?v=p80gPW1ymV8
"Create a new frame!" is a fun and entertaining comic and illustration workshop intended for children of primary school age, or more precisely, students up to 6th grade. Since 2015 the workshop has been bringing together children who like drawing and writing in a special creative medium or art form – comics. Comics are a medium for expressing creative potential, but also emotional states, family problems et cetera. The workshop is intended for every child who wants to spend their free time discovering the possibilities of expression through writing and drawing. With the guidance of an author of a specific comic who helps the small group of children discover the magical possibilities of this type of expression, every child can express the inner and outer world through the story. Children express their world of ideas, colours and names of events, things, and phenomena already at an early age. By connecting the "frames" in the story, children are given autonomy in expressing the emotions and obstacles they face. Through a game of putting together comic book frames and illustrating their own stories, children discover the world of peer relationships, the worldview around children, and the happiness and problems that occupy schoolchildren.
Workshops are conducted throughout the school year in small groups, and so far this workshop has been attended by about 30 children, most of whom have encountered some emotional problems and/or learning difficulties (inability to concentrate, hyperactivity, et cetera). This workshop is done in collaboration with experts, social pedagogues and psychologists, and the instructor is an independent artist, Damir Steinfl, who adapts the implementation and a way of work in the workshops to the situation and needs of children and youth.
The instructor of the workshop received awards for a specific style of comics when he was a child and young person himself, and he continues to use that style today.
The aim of these workshops is to develop tolerance as the foundation of civilized behaviour and a culture of peace. Every piece of work is valuable, and every child is given full attention, which is why they will feel fulfilment and satisfaction after creative work. This encourages work for the sake of artistic and written expression itself, and not for the sake of an external reward. Furthermore, we want to encourage cooperation among peers, getting to know each other, free and different expression and spending free time in creative expression. All of these will strengthen the self-confidence and self-esteem of children. In addition, they are taught how to visualize given motifs, present the relationship between given motifs, use basic elements of artistic composition, master the stylization of drawings, notice the characteristic planning in creating comics, learn to compose text into visual representation, recognize the historical development of comics, master the language of comics through making comic banners (with the use of text, without text, the use of onomatopoeia, framing, etc.).
How is this goal accomplished?
Workshops are conducted from September to mid-July (and during school holidays) in small groups (5-10 participants). The workshop takes place once a week, usually on Wednesdays from 17:00 to 19:00. The groups are formed after applications according to age and are done in one or two groups in the afternoon.
Each lesson begins with an introduction in which the participants of the workshop are gradually, unobtrusively and through play introduced to certain processes of making comics and illustrations and specific achievements of the said art form. It focuses on specific content according to the interests and needs of the children, and the content of the process and topics are: idea – sketches – script – framing – pencilling – inking- colouring – finalization and publication. In addition to the process, they are also introduced to the materials (tools) and techniques of making comics. Special attention is paid to the topic of community life and relationships in the family and among peers, children's rights, and the topic of "the city", i.e., urban issues (environmental, etc.).
Through an individual approach, students are motivated to work independently and free their imagination. Additionally, they are helped with advice to realize ideas, stories, and drawings that they design in the best possible way at a given moment. Children can participate in the choice of topics and rhythm of work, both group and individual.
After each cycle there is an organized exhibition of their work in spaces suitable for comics, and as part of the workshop, there are also organized visits to the Museum of Modern Contemporary Art.
At the end of each cycle, the pieces are published on the blog "Kvarnerska strip scena" (https://opatijskastripscena.blogspot.com/).
The instructor is Damir Steinfl, a freelance artist, author of many pieces and exhibitions.
The target group:
primary school children aged 7 to 13 (students up to 6th grade).
4. Professional training of educators and other people working with children and youth
"Professional training of educators" is carried out to prevent stigmatization of children at risk and to promote health literacy, and it consists of a series of projects implemented in schools and kindergartens or other institutions. This program, intended for professionals in education who work with children and youth in the education system, is enriched every year. The program also cooperates with KBC and specialized doctors who diagnose and treat most diseases and/or difficulties that children from Primorsko-goranska County, but also children from Istria and Lika-Senj County have.
The projects are described below.
a) Project "EPI in kindergarten and school".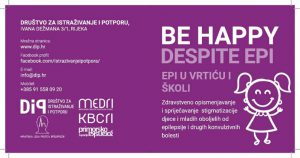 This project aims to prevent the stigmatization of children and young people with epilepsy and other convulsive diseases. Through professional training of educators, we work exactly where it is most important – in school, where children and young people spend most of their active time. The role of teachers and professional associates is vital when dealing with children who have been diagnosed with some of these diseases or disorders. Professional training is conducted in two cycles of 3 to 4 hours within schools and kindergartens, and is conducted by specialist doctors and other professionals who diagnose and treat most children in Primorsko-goranska County and other counties.
The experts are:
Ph.D. Igor Prpić, MD, neurologist from KBC Rijeka, Clinic for Paediatrics
D. Inge Vlašić Cicvarić, clinical psychologist from KBC Rijeka, Clinic for Paediatrics
Jelena Begić, MD, head nurse from the Department
The training is approved for performance in schools and kindergartens by the Ministry of Science and Education, and on average about 50 employees participate in it. The results of the evaluation show that there is a great need for this training because knowledge and information tests (conducted in schools together with pre-testing) showed that most educators do not possess sufficient information about the disease and the capabilities of children with epilepsy. As there is at least one child diagnosed with this disease in every school or kindergarten, it is very important that the whole team is informed about the capabilities of these children so that their behaviour does not stigmatize them.
More on the Facebook page: https://www.facebook.com/epi.dip.prijatelji/
b) Project "Diabetes at school"
This project includes professional training of educators in schools to prevent stigmatization and increase health literacy of employees. It is carried out in cooperation with KBC, and is performed by Ph.D. Srećko Severinski, MD.
Experience has shown that this training is also justified because there are still prejudices about what children who have been diagnosed with diabetes may or may not do.
c) Learning disorders, ADHD, etc.
The project refers to the professional training of educators to prevent stigmatization of children and youth who have been diagnosed with a learning disorder, especially ADHD. The project is implemented in schools and kindergartens, and is realized by specialist doctors and other professionals who diagnose and treat most children in Primorsko-goranska County and other counties. The project is implemented for all employees of individual schools in the duration of 1 cycle of 8 hours, and on average about 50 employees participate.
The experts are:
Professor Ph.D. Igor Prpić, MD, neurologist from KBC Rijeka, Clinic for Paediatrics
D. Inge Vlašić Cicvarić, clinical psychologist from KBC Rijeka, Clinic for Paediatrics.
5) "Wool and I – a couple of friends!" – an innovative method of wet felting wool with hands and feet!
This activity was created based on the experience of the instructors Petra Štimac and Barbara Fistonić, both social pedagogues, in working with children and youth at school and in the activities in our organization DIP. The development of this program which was approved by the Ministry of Science and Education for implementation in schools was started precisely because of the effectiveness of this educational method of working with children.
This work method has a therapeutic and educational effect. It turned out that children with behavioural disorders and other difficulties very actively accepted this method.
The effects are:
a) psychophysical tension reduction, relaxation,
b) self-control development,
c) self-confidence strengthening,
d) developing communication and social skills,
e) developing motor, sensory, and cognitive skills,
f) developing perseverance and focus in work,
d) increase of educational achievements,
h) introduction of innovative methods of work in the educational process.
Wet felting of wool is the process of forming various decorative and useful objects by squeezing wool with palms and feet in warm water and soap on different tactile bases. Felting wool is fun and pleasant for users and allows them to get closer, build relationships in a positive atmosphere (relaxing music and the smell of essential oils). In addition to wet felting with the hands, we also use wet felting with the feet, which additionally stimulates the basic sensory system.
Target groups for which this activity is intended for:
children and youth
children and youth at risk
children and youth with difficulties (behavioral disorders, autism spectrum disorders, intellectual difficulties)
educational staff
all those who are interested in learning the technique of wet wool felting e.g. managers (team building).
With this method, students are calmer and their concentration increases. The method positively affects the motor, psychophysical and other abilities of the participants. Likewise, since the wool used is technically "waste", this method contributes to the environmental awareness of children and youth.
This activity is carried out once a week or month in groups of up to 10 students.
The workshop lasts two and a half hours, with a smaller number of participants (4-6), and the appointments are arranged with the instructors. Participants will learn basic knowledge of the technique of wet felting wool and will make and take home: a mobile phone bag and a fragrant flower.
The method of work was presented at the Meeting of Professional Associates, at the Conference of Social Pedagogues in 2018.
Wet felting workshops have so far been conducted in:
– Fran Franković Elementary School, Rijeka (special class department for students with behavioural disorders, workshops have been conducted for 5 years, 30 students, stronger self-control, better interpersonal relationships, reduction of frustrations)
– Fran Franković Elementary School, Rijeka (regular students who showed interest in felting, 10 students, relaxation, acceptance of diversity and tolerance towards students with difficulties, improving concentration, patience, and focus)
– Sveti Matej Elementary School, Viškovo (special educational group for students with intellectual difficulties, 5 students, relaxation, relationship building, focus, patience)
– Autism Centre Rijeka (4 students, sensory integration, relaxation, interconnection, concentration)
– Centre for providing services in the community Izvor, Selce (half-day workshop for children and youth with behavioural disorders, 20 students, connecting and strengthening mutual relations, quality leisure time, development of entrepreneurship)
– Ivan Mažuranić Elementary School, Novi Vinodolski (special educational group for students with intellectual difficulties, sensory integration, development of patience and concentration, relaxation)
– Ivan Mažuranić Elementary School, Novi Vinodolski (a dozen school employees, mostly teachers, learning the basic knowledge of wet wool felting, which they will pass on to their students in class).
Doniraj i udomi
Udomljavanjem naših ukrasno-uporabnih predmeta sudjelujete u provedbi naših programa za mlade s teškoćama u razvoju i psihosocijalnom funkcioniranju. Mi ćemo vam zato pokloniti jedan ili više predemeta koje smo sami napravili.
Prijavi se
Kontaktirajte nas
Informacije
Adresa
Wenzelova 2/1
Rijeka, Hrvatska
OIB: 78171364712
MB: 4152115
ŽIRO RAČUN: ZAGREBAČKA BANKA
IBAN: HR7123600001102394295