Building a Park!
Spend the weekend in Dubrova Sculpture Park
Sunny (extended) June weekend is approaching, when you can go with your family and friends in Dubrova Sculpture Park. The Association of Mediterranean Sculptors Symposium in collaboration with partners, the Association "Dragodid" and  the " Association for research and support" (DIP), is organizing a variety of events for all ages. DIP is going to host and their friends from the Association of people with intellectual disabilities Srce Rijeka.
Central event is a workshop of drywall building during which the part of the damaged drywall will be renovated from the direction of the playground FC Iskra towards Tomislav Kauzlarić sculpture " From here to the eternity and back". Aside from renovation, participants are going to have a chance to learn about drywall building, that is going to be build from the end of Ivana Picelj White road " White road in negative" toward existing drywall, that is currently hidden among pines. This way, two entrance for pedestrians and cyclists will be arranged, on south and west side of the Park.
Applications for workshop is open till Friday, June 19th, by the following form —https://forms.gle/karcVZqTi9eYSRKS6.
On Friday, it is possible to visit area and meet masters of drywall building, so you can better prepare for the workshop. The workshop starts on Saturday at 9:00 and it will take place according to the following program.
Project "Building a Park- restoring drywalls in Dubrova Sculpture Park" is funded by The Foundation for Encouraging Partnership and Civil Society Development from the Fund of Cities and Municipalities, Small projects for a better tomorrow.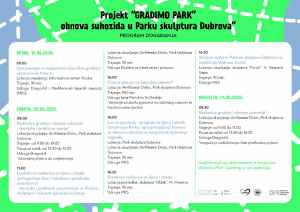 Share on Facebook
Doniraj i udomi
Udomljavanjem naših ukrasno-uporabnih predmeta sudjelujete u provedbi naših programa za mlade s teškoćama u razvoju i psihosocijalnom funkcioniranju. Mi ćemo vam zato pokloniti jedan ili više predemeta koje smo sami napravili.
Prijavi se