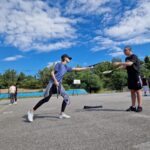 WHAT DID WE DO THE PAST TWO WEEKS? – JUNE 12th – 23rd
Monday was a sports day on campus! The volunteers prepared various recreational games for us, such as tug-of-war, badminton, soccer, volleyball, and the like. In sports games, apart from being physically active, we also practiced patience, adaptability, teamwork and competitiveness.
On Tuesday, we finally finished our wooden bread baskets, and they are ready to use! It's nice after a lot of effort to see the product of joint work!
Wednesday was reserved for an activity with our ERASMUS intern Mandy from the Netherlands. Mandy prepared activities for us: the culinary activity of making cake and muffins with the addition of traditional Dutch Stroopwafel cookies, the "Lexicon" activity where each member answered questions about themselves.
On Thursday, we took advantage of the sunny day and walked along the Molo longo. We used Nordic poles, which are extremely good for properly dosing the resistance to the surface, which additionally activates the muscles of the upper body. Did you know that Nordic walking is significantly different from walking with classic ski or hiking poles?
Friday is reserved for our Zoom tea party!
We started the week with a trip to our eco garden in Viškovo. After working in the garden, we played traditional Dutch games prepared for us by our ERASMUS intern Megan from the Netherlands: Nail the Poo Game, Bottle football and Ball toss. We are happy when people from different parts of the world volunteer with us – then we have the opportunity to learn details about different cultures and customs and thus spread multicultural knowledge!
Tuesday was dynamic and we held activities:
– a modeling activity where we made wooden holders for paper towels
– we celebrated Clara's 23rd birthday!
See the photos for the full experience.
We marked the middle of the week with a creative activity with volunteer Frank. First, we drew each other, but under one condition – that we weren't allowed to look at the paper! Then we drew ourselves – how do we see ourselves, where would we like to be at this moment and how do we feel? The final works were very interesting and creative!
Share on Facebook
Još novosti
One of the goals of the Half-day stay and Psychosocial support program at…

Nastavi čitati...

22.09.2023
CHILDREN AND YOUTH

On Monday, we held a sewing activity. At the activities in DIP, we…

Nastavi čitati...

15.09.2023
CHILDREN AND YOUTH

We started the week by going to the Green Kastav fair. As always,…

Nastavi čitati...
Doniraj i udomi
Udomljavanjem naših ukrasno-uporabnih predmeta sudjelujete u provedbi naših programa za mlade s teškoćama u razvoju i psihosocijalnom funkcioniranju. Mi ćemo vam zato pokloniti jedan ili više predemeta koje smo sami napravili.
Prijavi se