About Mentoring program "Life skill laboratory – FRIENDS"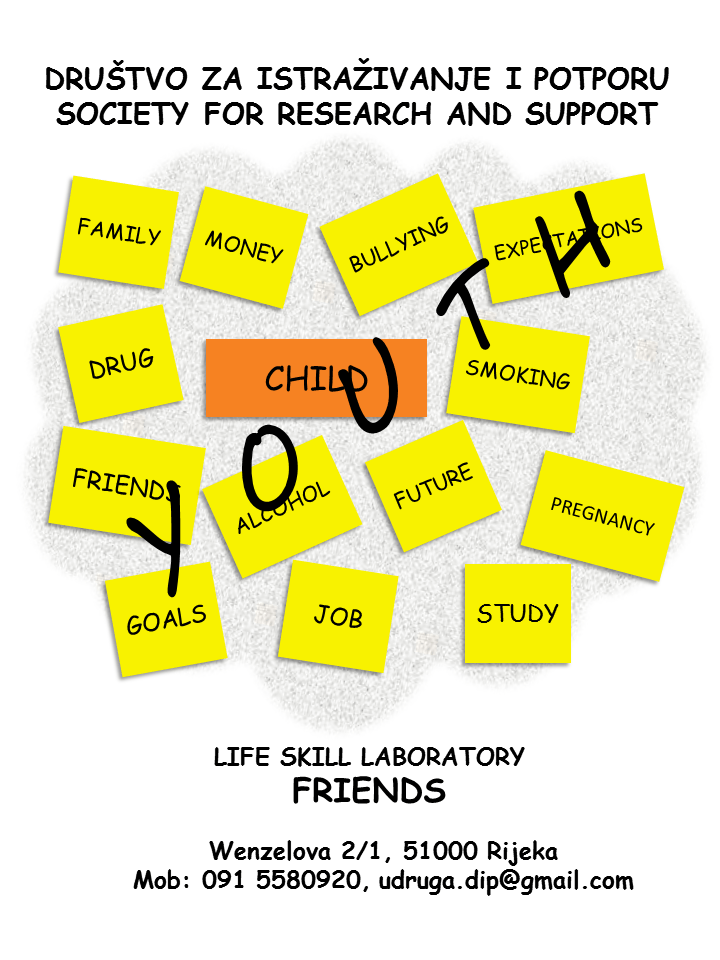 The mentoring program "Life skill laboratory – FRIENDS" is a program which was implemented in 2015 and is still ongoing. It consists of two modules: Module 1 and Module 2.
The program was based on a 2014 project with the name "Friends". The project was initially financed by Primorsko-goranska County thereby giving incentive for further growth and progress in the said mentoring program.
1. The mentoring program "Life skill laboratory – FRIENDS" – Module 1
is intended for youth with developmental and psycho-social functioning disabilities aged 18 to 30 years old. This includes youth that are out of the education system, training and work (in NEET situation), that is, youth with completed or irregular schooling, in special classrooms, special schools, such as the Centre for Education, young people who are unemployed and most often have combined difficulties from the autism spectrum, reduced intellectual abilities, smaller motor disorders, diagnosed or undiagnosed ADHD, behavioral disorders, chronic diseases such as epilepsy or other diseases.
The program was envisioned with the goal of preventing social exclusion of mentioned marginalised groups and providing social support to youth with the purpose of developing their self-confidence and social skills, expanding their interests and social network, and also for  organized spending of their free time in a group of friendly people.
The program is the basis for the inclusion of young people in other programs and work-occupation activities because it includes the provision of social support of mentors and experts as well as individual monitoring of the performance of each of them in certain activities.
Mentoring programs are recognized in the world as the most effective model for preventing social exclusion, and this version is the only such program in the Republic of Croatia intended for this target group. It was financed by the Ministry of demography, family, youth and social politics from 2015 to 2018 and Primorsko-goranska County which continues to finance it. The rest of the operating funds are collected from personal sources, donations from citizens, membership fees and social entrepreneurship. Furthermore, DIP has a good cooperation with the University of Rijeka, whose students participate as volunteer mentors for young people with disabilities and thus make a great contribution to the development and preservation of this program.
The activities that are being implemented (or have been implemented) within this program are:
Basic mentoring program – peer mentoring, "one on one"
Happy cooking school – training to prepare simple meals for personal needs
Lets go swimming! – recreational and therapeutic swimming
Education for mentors, reserve mentors and volunteers as well as others.
More: Module 1
2. Mentoring program "Life skill laboratory – FRIENDS" – Module 2
is intended for children and youth with developmental and psycho-social functioning difficulties that are in the education system.
The program was envisioned with the goal of preventing social exclusion of children and youth enrolled in some of the regular schools in the education system, by improving and developing activities that prevent risky behaviour in children and youth as a part of a preventive program. The specific activities and work methods were created from the need of carrying out activities with different children and youth with different needs in a way where the activities would be fun for them and thus it will increase efficiency in achieving educational outcomes.
In that way we achieve high motivation and active participation, and the activities themselves are a protective factor for maintaining psycho-physical health. Most of these activities are not carried out in any organization in the wider area, and participants can join several activities or only one. They can also enroll in these activities at any time, with the exception of the children's psychodrama workshops for which a group is formed depending on the compatibility of the participants. This module of the mentoring program has a greater emphasis on the organization of free time for children and youth, but it does that primarily through play. The structure of the program is organized as a series of individual but related activities that can be shaped as stand-alone projects. Some of the core activities of Module 2 are as follows:
Basic mentoring program (structurally the same as Module 1)
Let's go swimming!
Play the story!
Create a new frame!
Professional training of educators and other people working with children and youth.
Wool and me – a couple of friends!
The program is planned, implemented and evaluated in a team consisting of, in addition to the program team, experts from various fields, such as social pedagogues, psychologists and doctors.
More: Module 2
Doniraj i udomi
Udomljavanjem naših ukrasno-uporabnih predmeta sudjelujete u provedbi naših programa za mlade s teškoćama u razvoju i psihosocijalnom funkcioniranju. Mi ćemo vam zato pokloniti jedan ili više predemeta koje smo sami napravili.
Prijavi se
Kontaktirajte nas
Informacije
Adresa
Wenzelova 2/1
Rijeka, Hrvatska
OIB: 78171364712
MB: 4152115
ŽIRO RAČUN: ZAGREBAČKA BANKA
IBAN: HR7123600001102394295